"Female Founders: Insider Perspective"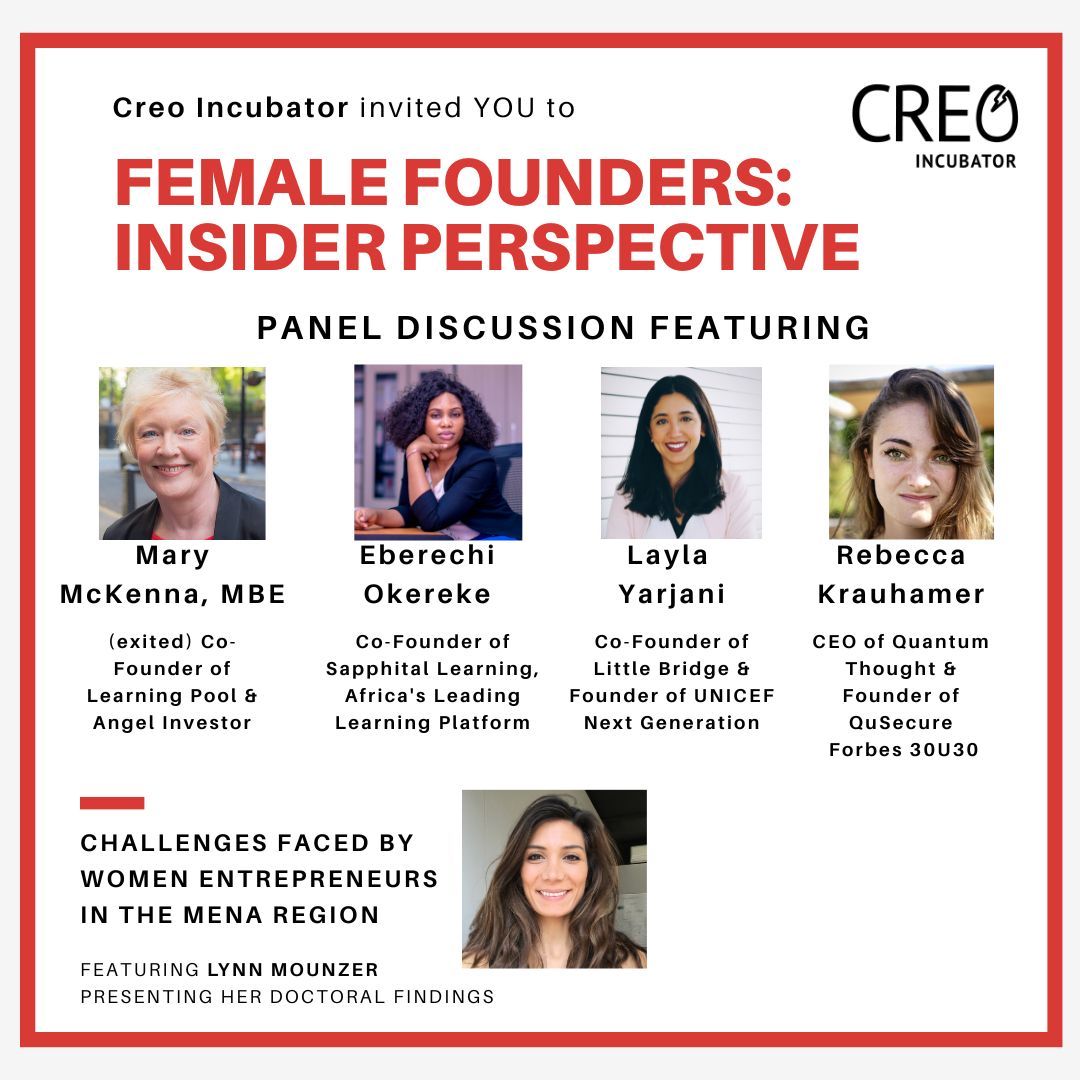 Presenting Creo Incubator's Inaugural Flagship Event: Female Founders Making Waves

Creo Incubator launched its first flagship event, "Female Founders: Insider Perspective," on 5th November 2020. Dr Martine Abboud, Founder of Creo Incubator, launched the event through an interactive poll showing that 90% of the audience are aspiring entrepreneurs interested in pursuing their business ideas but uncertain how to navigate arising challenges. The event connected inspirational, world-class guest speakers with a diverse entrepreneurial audience committed to solving pressing problems.
Lynn Mounzer, a researcher on women entrepreneurship in the MENA region, set the wheel in motion by sharing her personal story and doctoral findings. Mounzer proposed critical solutions to guide entrepreneurial ecosystems, governments, and diverse institutes to create an enabling environment for the growth of women-led businesses. She highlighted the importance of starting with capacity building; "there should be an intentional change". She noted the impact of LebWox by Creo Incubator in leading change as a grassroots entrepreneurial initiative for women's inclusion.

Mary McKenna, MBE, (exited) co-founder of Learning Pool and angel investor, highlighted the importance of initiatives such as Creo Incubator and the AwakenHub in Ireland in empowering women with leadership development. McKenna emphasised the ''entrepreneur reward''; you not only "find out what you are capable of yourself" and meet amazing people along the way, but you also "take control of your own destiny and choose to become your own boss, an exhilarating and fantastic experience" when coupled with "resilience and relentless execution". McKenna ended her intervention with a strong message "there are no age boundaries to becoming your own boss".

Rebecca Krauhmer, CEO of Quantum Thought and founder of QuSecure, proceeded with her input; "make the game fit you. Everyone is going to have an opinion. It's like dating; you don't go out trying to impress everybody. You go out addressing the right person to fit who you are". Although "you need to be focused not to fall early on, you need balance between work and social life to stay sane." Thus, you must build and cherish your support system. Krauhmer stressed: "take advantages of the structures that support female entrepreneurs" and then create your own opportunities.

Next, the panel discussion featured Layla Yarjani, co-founder of Little Bridge and founder of UNICEF Next Generation, who provided a thoughtful perspective on her entrepreneurial journey. Yarjani conveyed a vital message to the audience: "keep learning and constantly developing yourselves". When taking action and connecting with investors, keep an open mind,"no is not a rejection of who you are as a person" as "you must separate yourself from what you do". Yarjani then concluded with the importance of knowing who to ask for advice when selecting potential mentors – a point McKenna strongly supported. Another critical message Yarjani highlighted is "perfect is the enemy of good".

Eberechi Okerke, the co-founder of Sapphital Learning, Africa's leading learning platform, then shared her story and touched on external hiring and seeking investors; "you spend a lot of time trying to get them on board. You must sometimes take a step back and look at who you have internally" while initially considering bootstrapping to fund your start-up. Okerke connected with the audience through her passion for continuous learning and quality. She emphasised the value of research and knowing your business very well, as "quality speaks for itself".

All attendees related to the challenges faced by the keynote speakers. Even though the speakers were from different corners of the world, their experiences were remarkably interconnected, genuine and inspirational. Anne Miller, Enterprise Programme Manager at the University of Oxford, commented: "what an incredibly inspiring group of speakers: so many great shared experiences and tips and so many useful insights into different cultural approaches". Zad El Makkaoui, a LebWox Fellow, added, "I loved how each panellist had something different to say. It's important to hear the real experiences". The "Female Founders: Insider Perspective" attendees left with a sense of empowerment and excitement to mitigate challenges in turning innovative ideas into sustainable enterprises.

At Creo Incubator, we are committed to sparking multi-generational change, one initiative at a time. We invite you to become part of our vibrant community. Please stay in the loop by adding yourself to our mailing list and gain priority access to future events.