ARE YOU READY TO TAKE YOUR BUSINESS TO MARKET AND GROW YOUR START-UP?
CREO GO-TO-MARKET PROGRAMME

IS
CREO GTM Programme will empower you to draft and implement a strong GTM strategy so that you can confidently take your product/service to market, analyse your market insightfully, position yourself ahead of competitors, and step up your marketing game!
WHY THIS PROGRAMME IS A GREAT FIT FOR YOU!
Are you finding it difficult to choose the right niche for your product/service? That's why we're here! This programme will enable you to determine the right target audience for you.
Do you want to ensure that your product/service provides a positive user experience? CREO GTM Programme will help you create a meaningful journey between your product/service and your prospects - a conducive step to a successful business.
Are you unsure how you are supposed to develop your product/service? Well, our programme will empower you with the tools and strategies to create, develop and launch your own product/service.
Do you have an innovative business idea/product and want to ensure that it competes successfully with other running businesses? You're in the right place! This programme will provide you with a strategy plan to boost your sales and elevate your company's position against other competing companies.
Do you have an established business and want to make the most out of it? Our programme will allow you to create a robust business model to help you boost your business and maximise your value.
Are you afraid of the competition your start-up might have to stand against? It's time to leave those worries behind! CREO GTM Programme will equip you with the right tools to set your product/service on top of the competition.
IT'S TIME YOU STEP UP YOUR GAME!
Who is this programme for?
THIS PROGRAMME WILL BEST SUIT YOU IF YOU:


- have an idea for a start-up and would like to take it to market.

- already have a start-up and want to grow and expand your business.

- are at the seed stage and planning to grow and expand into new markets.
SEEK CHANGE AND OPTIMISE YOUR VALUE IMMEDIATELY!
WHAT YOU'LL LEARN AND IMPLEMENT:
You will learn about the business model, its significance, how it evolved, and its types, focusing on the business model canvas, lean model canvas, and value proposition canvas.

We're not done yet!

You will also unlock the opportunity to receive a Worksheet template to help you create YOUR OWN lean model canvas!

All of this will enable you to build a robust business model!
You will examine market considerations, demographics & psychographics, identify the different key market metrics (TAM, SAM, SOM), discover the top-down & bottom-up analyses, distinguish between primary & secondary market study methods, dig deep into how to conduct interviews & focus groups, and analyse efficient surveying.
As part of the programme, you will receive hands-on experience in market research through our case studies.

Not only that, but you will also be provided with an exclusive CREO worksheet template that will enable you to perform a thorough market analysis.

Thus, you will feel empowered to conduct an insightful market study!
You will identify what a competitive analysis truly means, determine its importance, examine the competitive analysis report (profile, analysis, advantage & competitive matrix).

It doesn't end here; you will also IMPLEMENT what you acquired through real-world case studies! AND you will get the chance to fill out a Competitive Analysis Matrix.

After this, you will be able to conduct a competitive analysis confidently!
You will dig deep into the product development process.

Just that? No way!

You will also get the opportunity to work on real-life case studies AND receive a worksheet where you will fill in the Product/Service Development Template!

At the end of this, you will be empowered to unveil what the product development process really entails!
You will identify the different design terms, define user experience, examine the various user experience principles, be introduced to numerous user experience examples, investigate the user experience implementation, and reveal the future of user experience.

These will all be the groundwork for the CREO UX Case Studies!!

Thus, you will grasp the basics of user experience and why it matters!
You will learn how to validate an idea or product, examine important considerations, recognise the importance of A/B testing, determine how to conduct A/B testing, and analyse market test results.

Luck is on your side because CREO offers its members the chance an A/B testing template!

This will empower you to understand when, where, and how to conduct a market test!
You will identify a go-to-market strategy, explore the different GTM strategies, and examine the various growth strategies in existing and new markets.

Here, you will fill in a worksheet to help you decide and work on your GTM strategy!

After this, you will be able to craft a successful go-to-market (GTM) strategy!
You will explore the different stages of a sale cycle, determine the typical retail & distribution margins, analyse sales governance, distinguish between the various pricing strategies, and examine the numerous pricing models & dimensions.

By the end of this, you will be able to establish efficient sales cycles and figure out the best pricing models for you!
You will define marketing terms, establish your brand identity, explore brand archetypes, examine the types of brand names and how to pick one, be introduced to types of logos and logo design, understand the significance of colours, know how to choose a colour palette for your brand, analyse the 4Ps of marketing, distinguish between the different marketing strategies, identify what digital marketing is, and reveal the various social media platforms.

To end this programme on a great note, you will be given a marketing & sales strategy template to fill in!
You will differentiate between the types of strategy, discover Porter's five forces, learn about the value chain, explore the resource-based view, and examine the contributions of the ecosystem to your entrepreneurial success.

PLUS, you will fill in the Business Strategy Template!

All of this so you can build a killer business strategy!
GROWTH AND DEVELOPMENT ARE CALLING FOR YOU!
WITH GROWTH, COME BONUSES:
ELEVATE THE VALUE AND IMPACT OF YOUR BUSINESS USING OUR EMPOWERING AND UNIQUE EDUCATIONAL METHOD.

OUR VALUE PACKAGE INCLUDES THE FOLLOWING BONUSES:

You will start building on the go! You will have access to frameworks, worksheets and templates to consolidate your journey!
You will have access to real-world case studies. What's better than experiential learning?
You will be part of a vibrant and engaging community. Who doesn't benefit from meaningful networking?
Did we hear group Q&A sessions? Yes, we did! You will have access to one live session for the most optimal learning experience.
Learning units are self-paced, 15 min daily to enable you to learn on the go while engaging with your other responsibilities. Yet, you can decide to learn more than one lesson daily.
IT'S TIME YOU SHOW THE WHOLE WORLD WHAT YOU'VE GOT!
OUR UNIQUE LEARNING APPROACH WILL KEEP YOU HOOKED!
Our approach relies on gamification and microlearning!
Tailored for YOU
Modules combine research and gamified elements, making it more convenient and creative to gain new knowledge and understandings.
Increased Knowledge Retention
Learning units are easy to digest and only take 15 mins of your day! You can now enjoy the flexibility of learning anywhere and anytime!
Discuss with Others
Discussion Boards will allow you to connect and share your ideas with other learners on the same entrepreneurial journey as YOU!
Highly Engaging Modules
Awesome features include interactions, quizzes, roleplay simulations, badges, & so much more!

Creo is really life-changing as it doesn't only make you more knowledgeable about diverse business areas but also empowers you to be more confident.
— Yara

Intelligent, creative, and innovative. The programme encompassed a variety of topics related to entrepreneurship such as strategy planning, marketing, brand identity... The innovation was apparent in the way the team used technology to facilitate our learning experience.
— Christelle

For everyone who has an idea and wants to develop it, Creo Incubator's programme is the best to help you reach your goals.
— Jana

I have always known that I am more fit to be leading my own business idea rather than fulfilling someone else's vision, but the support system needed was missing; this is what I found through Creo. I learnt how to build a business following a clear structure.
— Lamia
THE VALUE PACKAGE!
HURRY AND BENEFIT FROM OUR PACKAGE DEAL! FOR A LIMITED TIME ONLY!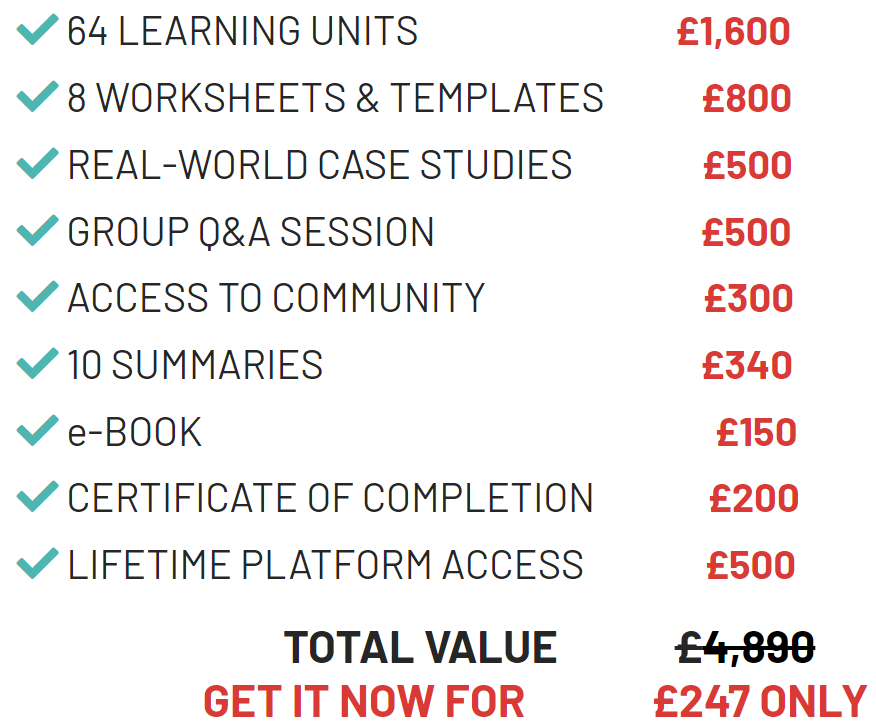 Available today for

£247 only

!
Frequently Asked Questions
What is the programme's duration?
The programme runs for 77 days with daily learning units (15 min each). One new section (worth 2 hours of learning) is unlocked every week, so you get to decide whether you would like to go over one 15-min activity or more on a daily basis during a week. You set the rhythm! The overall programme's average duration is 20-25 hours.
Is this programme time-restricted?
On the contrary!! Our modules are designed for you to access anytime and anywhere. This is why we launched our new CREO Incubator phone apps! Learning should be fun, engaging, easily consumed, and accessible. Our modules are not time-consuming but are meant for the committed learner!
Will this programme rely solely on modules?
Pfft, definitely not! You will get exclusive access to worksheets, templates, a group Q&A live session, and so much more! We're waiting for you!!
Will I get to meet other learners with the same aspiration?
You will get the chance to belong to a community of entrepreneurs! This will help you practice meaningful networking and exchange creative and innovative ideas for your future businesses. You get out what you put in!
What if this programme works for others, but not me?
Our unique learning method embraces all personality types. Our courses empower you and allow you to work at your own pace. Better than that, our courses can be accessed anywhere and anytime. This way, your learning experience will be tailored to your learning style! We believe in learning for all!
Why should I enroll in CREO's programme specifically?
Unlike other learning institutions/systems, CREO adopts a unique learning approach that comprises gamification and microlearning nuggets. Our courses contain social learning with adaptive technology and practical case studies and simulations to deliver optimal educational value and high community engagement, enabling accessible and equitable education to all.
Take your growth to the next level! Certificate of Completion

You will be issued a certificate of completion.

You will also have lifetime access to the community for continued engagement and sharing opportunities in the innovation and entrepreneurship space.
Become a CREOPRENEUR. Join our community.
You will transform your business from the ground up. Don't waste your chance!
Any questions?
For any queries concerning the programme, don't hesitate to contact us via this form.
Sign up to our weekly newsletter & receive a treat!