Welcome to Creo Growth Mindset Programme!
An entrepreneurial mindset is essential in today's fast-paced and ever-changing business landscape. By learning to identify problems and use design thinking to solve them, you can unlock innovative solutions and stay ahead of the competition.

By the end of the programme, you will have a deep understanding of growth mindset principles and the tools and techniques you need to apply them in your work. You'll be able to tackle challenges with a fresh perspective and develop innovative solutions that drive your company's growth.
Who is this programme for?

We will help you unlock your inner potential! This programme is for YOU if you're looking to:
develop a growth mindset and break free from limiting beliefs that are holding you back.

develop problem-solving and innovation skills that will enable you to overcome obstacles and achieve success.

develop your creative thinking and innovation skills, and discover new ways to generate innovative ideas.

overcome your fear of failure and develop the resilience needed to take risks and try new things.

develop the lean startup methodology and learn how to quickly validate your ideas, adapt to change, and stay ahead of the competition.
Lead Your Own Transformation!
You will comprehend the difference between a fixed and a growth mindset, unravel the secrets of the
entrepreneurial mindset
, explore the mindsets of successful entrepreneurs, determine the difference between intrapreneurship and entrepreneurship, discover the relation between sports, science, and entrepreneurship, and analyse the various entrepreneurial traits,

PLUS, you will get the chance to develop your OWN entrepreneurial thesis!

All that so that you can develop an entrepreneurial mindset!
You will examine the various waste-related questions and learn how to identify a problem.
As part of the programme, you will receive hands-on experience in design thinking through our case studies.

Not only that, but you will get the chance to fill out an exclusive Creo template through which we will help you define and analyse the problem you are trying to solve.

Thus, you will feel empowered to identify ANY problem and employ design thinking to solve it!
You will explore how to use design thinking ideation tools to your advantage, discover the Six Thinking Hats technique, learn about the SCAMPER method, identify the SWOT analysis, uncover the Analogy Thinking technique, examine the Round-Robin AND Reverse Brainstorming, and reveal the power of technologies and trends.

You thought this was just it? Well, you thought wrong!

Creo is also offering its members the opportunity to fill out a worksheet that will help you nail your solution, SWOT, and elevator pitch!

After this, you will be able to leverage design thinking ideation tools to come up with new solutions!
You will analyse the

lean start-up methodology

, unravel the principles that make up the lean start-up methodology, examine the Build-Measure-Learn loop, discover the difference between prototype, POC, and MVP, and learn when to use each MVP type, identify your early adopters and determine how to test an MVP, distinguish between pivoting and persevering when reaching diminishing returns.

These will all be secret ingredients for you to gain a deep understanding of the lean methodology and how wastes can be avoided.

You will be given a chance to IMPLEMENT what you acquired through our case studies!
OUR UNIQUE LEARNING APPROACH WILL KEEP YOU HOOKED!
Our approach relies on gamification and microlearning!
Tailored for YOU
Modules combine research and gamified elements, making it more convenient and creative to gain new knowledge and understandings.
Highly Engaging Modules
Awesome features include interactions, quizzes, roleplay simulations, badges, & so much more!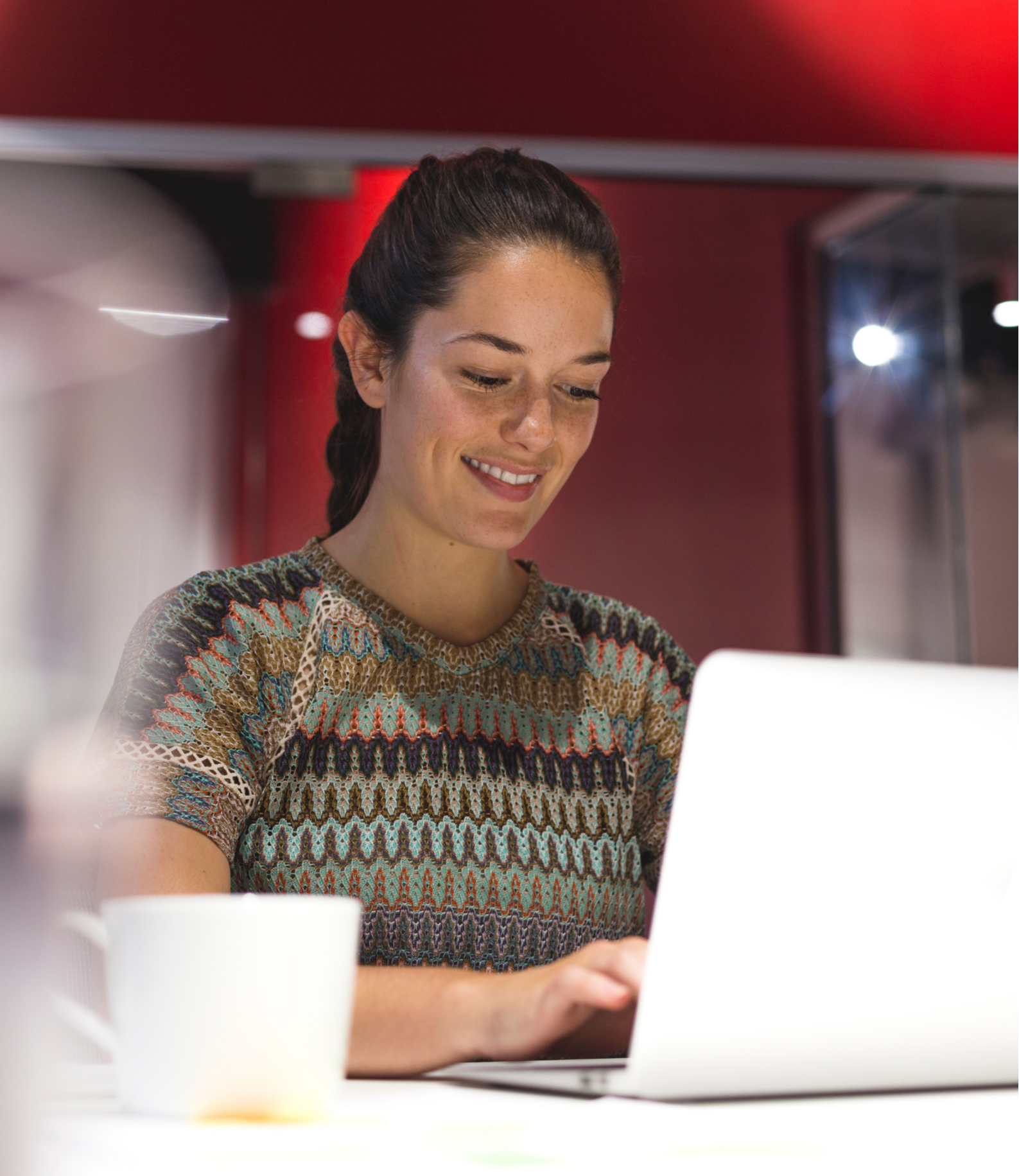 Increased Knowledge Retention
Learning units are easy to digest and only take 15 mins of your day! You can now enjoy the flexibility of learning anywhere and anytime!
Discuss with Others
Discussion Boards will allow you to connect and share your ideas with other learners on the same intrapreneurial journey as YOU!
Our learners love our
approach to education!
"I acquired too many soft skills that shaped my mindset. I am now equipped with the right tools about business, design-thinking, business strategy, storytelling, negotiation... My manager noticed the change, till the point he asked about it, and I just said "It's because of Creo!"


Rita
''Creo saved me up to 5 years of trial and error. It was also a character-building experience. I used to be stuck in the mindset of "I have the right to dream''. After joining Creo, that changed into "I have the right to take ACTION."


Sarah
"Creo transformed my perception of business while I gained intrapersonal skills and technical entrepreneurship knowledge. Prior to Creo, I thought that launching your own business requires you to be from a business background. The program developed every single side of me and introduced me to the world of business, leaderships, and entrepreneurship."


Sana
"This program helped me gain the needed know-how to shape my business. I learned how to develop an idea, pitch myself, negotiate strongly, find ideal partners while fostering a spirit to continue learning. This programme was beyond the skills developed; I grew as part of a friendly community of outstanding worldwide experts and fellow."


Jana Certificate of Completion

You will be issued a certificate of completion.

You will also have lifetime access for continued engagement and sharing opportunities in the innovation and entrepreneurship space.
Frequently Asked Questions
What is the programme's duration?
The programme contains 40 learning units (15 min each). You get to decide whether you would like to go over one 15-min activity or more on a daily basis during a week. You set the rhythm! The overall programme's duration is 10-12 hours, depending on your pace.
Is this programme time-restricted?
On the contrary! Our modules are designed for you to access anytime and anywhere. This is why we launched our new CREO Incubator phone apps! Learning should be fun, engaging, easily consumed, and accessible. Our modules are not time-consuming but are meant for the committed learner!
Why should I enrol in CREO's programme specifically?
Unlike other learning institutions/systems, CREO adopts a unique approach to learning that comprises gamification and microlearning nuggets. Our courses contain social learning with adaptive technology and practical case studies and simulations to deliver optimal educational value and high community engagement, enabling accessible and equitable education to all.
Don't hesitate. Take your journey to the
Any questions about this programme?
Please get in touch with us via this form.
Sign up to our weekly newsletter & receive a treat!